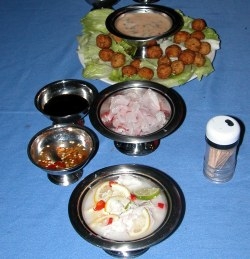 Munupi Wilderness Lodge Food!
You will enjoy the food. That's for sure. One of the reasons will be your healthy appetite stirred along by the sea air and the surroundings!
Should you wish, the surroundings will supply an interesting part of your diet during your stay at the Lodge. The meals are mostly of the Bistro variety, but anything can, and often does, happen, and Kerri-Ann makes sure that all tastes are catered for.
Fresh vegetables and produce, if not grown locally, are flown in from the mainland, as well as any special delicacies that you would like to enjoy during your stay.
Michael and Kerri-Ann have had fifteen years to perfect and create his own recipes for the local seafood. Fresh Barramundi, Salmon, Jack or Snapper (perhaps depending on your own angling skills) feature regularly on the menu. Perhaps a local Crayfish, or a feed of fresh Mussels are more to your liking.
As well the giant Mud Crabs, almost a meal in themselves, can be served steamed, smoked over hot coals aboriginal style, or in a delicious sauce that has the aromatic taste of nearby Asia.
Or you may be treated to succulent roasts, grilled or barbequed steaks, or perhaps you would like to suggest a meal that Kerri, Michael or David can prepare especially. All dietary requirements are catered for; simply make your needs clear when you book and it will be done.
Quite often, when there are a few guests around, everyone seems to join in cooking around the BBQ that is strategically situated just outside the bar area and the restaurant.
Your breakfasts and lunches are prepared to your taste, and there are plenty of snacks and fruit.